ADVANTYS LTD.
We have been a partner of ADVANTYS since 2004 and sell their BPM and workflow software WorkflowGen in German-speaking countries.
WorkflowGen is a leading digital process automation solution that enables organizations and IT providers to design and deploy mission-critical, process-driven web and mobile applications.

Storix Inc.
Storix Inc. is a specialist for backup and recovery under Linux, AIX and Solaris.
SBAdmin (System Backup Administrator) – the Linux, AIX and Solaris backup and recovery software solution for VMs and physical servers.
One Identity
One Identity specializes in IT security and identity management products.

As a Platinum Partner of One Identity, we focus on the areas of PAM, log management and Active Directory Management & Security of the portfolio.

IT security & identity management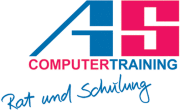 AS computer training​
Computer training made to measure: online with a live trainer or as a face-to-face seminar

As a partner company of AS Computer Consulting & Service GmbH, AS Computertraining has been offering training and services in the IT and non-IT area for almost 20 years.
FAQ
What you always wanted to know...
We work with different platforms and tools also in the field of remote support, including…
TeamViewer
GoToMeeting
teams
Google Meet